Having an online presence versus digital authority — What is their difference? Simply put, online presence is how your business looks online. For instance, when users search for services or products related to your industry, they may land on your website or social media page. Whereas digital authority shows the extent of your credibility (how well people trust and believe in your opinions) as the expert in your industry, which can significantly influence the buying trend and decision in purchasing products or services related to your industry.
Importance of Building a Strong Digital Authority
Let's take a quick look at some of the facts and figures to see the importance of building a solid digital authority:
79% of users research a brand across all its digital media platforms before purchasing.
Only 2% of brands succeed in gaining digital authority strategically.
Thus, only having a digital presence in the online community is not enough. You should build your digital authority to make your brand stand out. Would you rather be the 2% of brands who successfully gain digital authority strategically or the 98% who fail to do so?
How To Measure Your Digital Authority?
To measure your digital authority, there are 3 main aspects you can review, namely the keyword rankings for industry terms of your brand, the media coverage or placement that you have acquired in industry publications, and the pace at which your ideas are shared.
Keyword Rankings for Industry Terms
Although keyword rankings cannot tell how exactly your customers feel about your brand, rankings in Google are still influenced by users' behavior which is notably affected by the real perceptions of users. The extent of customers' trust towards your brand is portrayed through Google search rankings, which shows how deeply they believe in your brand's knowledge regarding a certain topic.
Coverage in Reputable Publications
The level of media coverage your brand and company gain through trustworthy placements in reputable publications will enable you to influence your target audience by establishing trust amongst many consumers. An inbound link checker is a tool to help you verify the level of media coverage that you have acquired.
Major and Believable Ideas
Sharing major and believable ideas is a great way to build digital authority. How frequently your company expresses and publishes big ideas and digital stories as a delegation for your authority as an organization. To assess whether or not your content marketing is successful in its attempt to ask your target audience, however, conveying your big ideas out there and observing the reception towards your thoughts is the initial step you ought to take.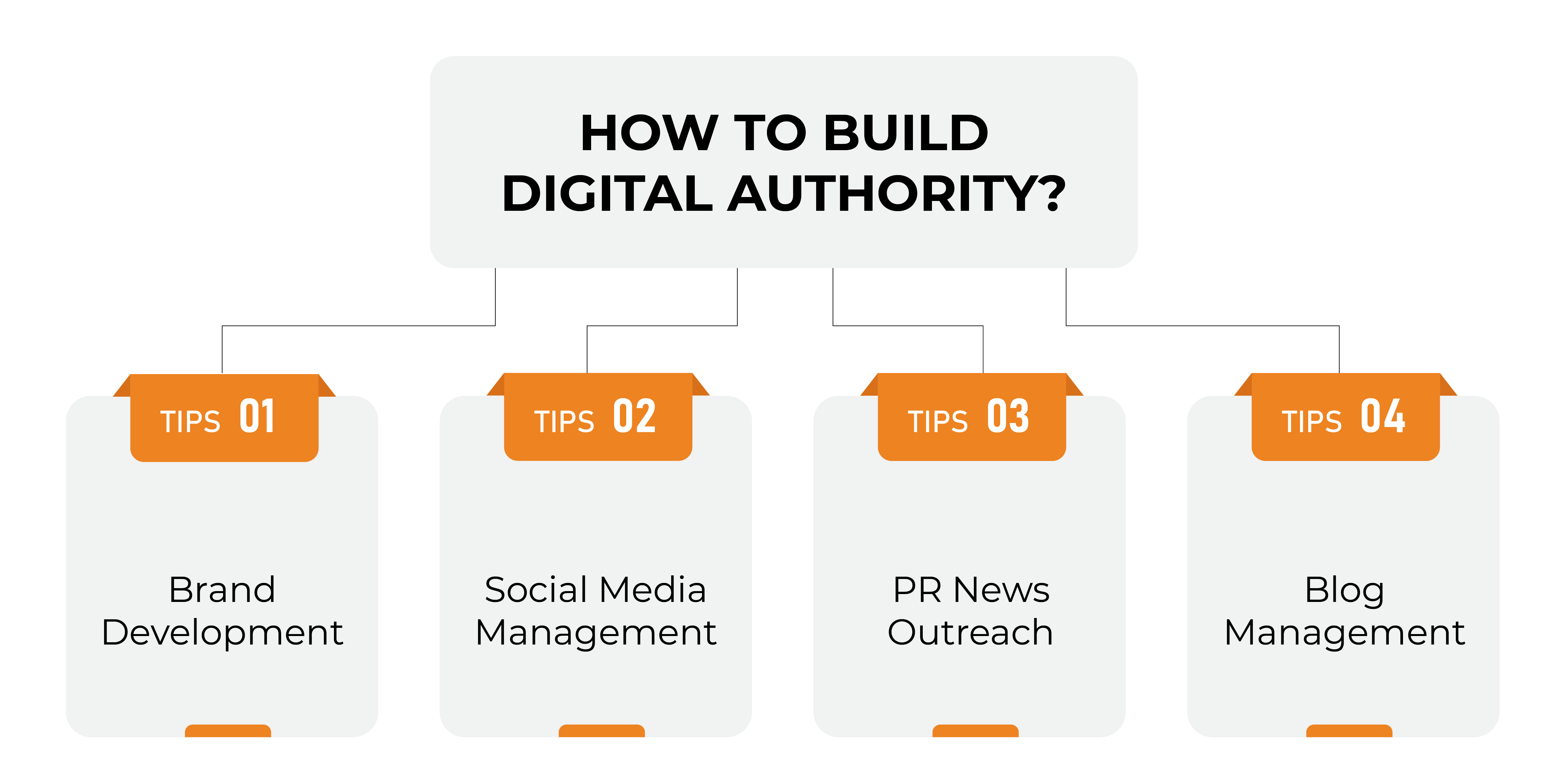 How to Build Digital Authority?
As 80% of the companies failed to meet their targeted revenue with less than 10,00 visitors to their sites, it shows that being present online is not enough. The key is to build a digital authority. To build your digital authority, there are 4 main aspects that you should focus on:
Businesses with a strong brand identity are more likely to increase their revenue by 23%. Here are some practical steps for brand development:
Develop a solid and consistent "Brand Identity" with Unique Selling Proposition (USP)
Sharing valuable, relevant, and engaging content consistently and frequently
Stay active on social media
Create a well-designed and professional website
Engage With Your Audience
Focus on engagement and relationship building with your followers
Work along with other brands and influencers
78% of consumers buy from a company with a positive engagement on its social media platforms. Be sure to stay active on your social media sites (e.g. Facebook, YouTube, Tik Tok, LinkedIn, Instagram, etc.) by responding to feedback and messages from your followers and target audience while encouraging them to share their experiences and opinions. This will help build better relationships with your existing customers and potential customers.
Another way to reach out to a broader audience in the community is through gaining media attention, where you can continue to build your business's credibility. 
To enhance your digital authority online, maintaining engagement with your audiences by updating your blog on your website consistently and frequently or on a scheduled periodical basis is critical.
Practical Blog Management Tips:
Craft an engaging title and put strategic keywords in your content where appropriate.
Select a simple format for your blog posts to make it easier for your target audience to read and discover answers to their queries.
Write unique content by differentiating your content (even for similar topics) with your writing style.
Prioritize content that will be appealing to your target audiences.
Use related multimedia, such as video clips and photographs to engage your target audience further.
Insert links to other related articles within your blog.
Include Call-to-Action (CTA) short sentences that encourage your audience to react or respond (e.g., subscribe to your blog, create a personalized account, share your content on their social media page, etc.).
Use meta description (i.e. a small block of text below the headline of your blog post, which appears on the search results page) where you can sum up your article with relevant keywords in short, concise sentences (not more than 160 characters).
Understand Your Target Audience
By reading as many popular blogs and published articles related to your industry, discover the potential journalists you target to reach out to. This helps you familiarize yourself with the type of content you should prepare that will capture the interests of those journalists. 
Typically, a media outreach fails because the suggested content topic differs from what the targeted journalist writes about or is interested in. Hence, you must know the type of content that you are pitching. For example, is it a new product launch or an interview with an expert?
Craft A Relevant Story
The headlines should be short and straightforward but can capture the attention of your target audience at the same time. Meanwhile, the outline of your story must be relevant to both the journalists and the target audience in a straightforward yet concise manner. More importantly, conveying newsworthy elements in your content while resonating with the emotions of your target audience is crucial to make your story stand out and gain better reception amongst your target audience.