Innovative Hub Guides Businesses Through Digitalisation
Kuala Lumpur, 26 April 2022 – E-Commerce is taking the globe by a wave. More and more businesses are digitalising their operations.
Innovative Hub specialises in Digital Marketing Solutions to assist businesses throughout South East Asia (SEA) in achieving a strong digital presence and meeting their business objectives through digitization.
During the recent SIDEC event, Innovative Hub MY's Managing Director, Lee Ming Zhe explained the nuances of setting up an e-Commerce business. "By the end of 2022, e-commerce is predicted to account for 21% of worldwide retail sales (Up by 10 percent from five years ago). The rapid expansion of e-commerce can be linked to a variety of factors, one of which is Covid-19. Consumer behaviour has changed as a result of uncertainty, virus fears, and stay-at-home rules, bringing offline traffic to online retailers. As the need arises, a large number of e-commerce enterprises emerge." , Lee explained.
With the increasing number of users, e-commerce is becoming a more favoured choice among businesses as it give more flexibility, better risk control and brand authority to a seller.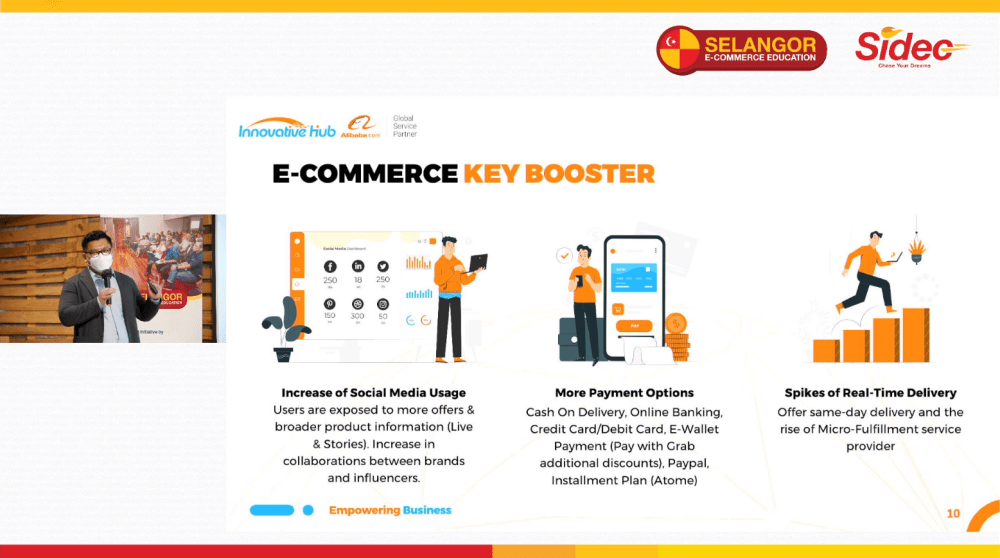 Lee also emphasised the importance of understanding your target audience to get a better understanding of the type of service they would like to extend to their customers' (B2B or B2C). 
"It is important to identify the channel of your business if it is B2B or B2C, so you can decide on the type of e-commerce website that is best suited for your products or services. This is crucial as B2B and B2C websites have different interfaces and user experience.", Lee said. 
Innovative Hub's Digital Marketing Solution assists organisations in establishing a digital presence and attracting traffic that drives engagement, conversion, and sales rates.