Do you know that in Malaysia alone, there are 29.5 million users on the internet as of the year 2022? However, amongst such a huge number of internet users, 84% of Malaysian users will not access the second Google page. So how can your website remain on the top ranking within the first page of Google whenever users search for products or services related to your business? The answer — Search Engine Optimization (SEO)!
With a well-paved SEO strategy, you can actually direct organic traffic to your website! Most of you have most likely heard about SEO, but do you really understand the essential elements behind SEO? Let us guide you through it in a simple manner that you can easily understand.
A Quick Overview of SEO
In short, SEO is a process that helps enhance your website's quality, making it more visible so that internet users can find your website more easily. In addition, SEO helps generate unpaid, organic leads to your website. However, please bear in mind — a fancy-designed website with poor SEO content won't be "discovered" by users!
5 Essential Steps of SEO
Research Your Keywords: Know the words used by internet users for related products or services.
Create Your Content: Tailormade your content for your target users.
Create Precise SEO Content: Ensure your content is clear, don't beat around the bush!
Link Building (a.k.a. off-page optimization): You can gain users' trust from other reliable websites.
Make Use of Technical SEO: Use technical ways to help the search engine find, crawl and index the content of your website more efficiently.
Pave Your Way to SEO Success
When your website is set up to cater to SEO success, it makes doing SEO much more manageable. So let's see how you can do that.
Top-Level Domain (TLD): Pick the most-trusted or recognizable one
In short, picking the extension such as ".com" or ".co" at the end of your domain name that best relates to your business, especially a more trusted and recognizable one such as ".com". For non-profit organizations or charity-related works, ".org" can be a good choice. If you conduct business in a foreign country, your country code top-level domain (ccTLD), such as ".co.uk" or ".com.my" is fine too.
Tips: Try your best to avoid TLDs such as ".info" and ".biz" which makes it more likely for people to associate them with spam. However, if you already have one, you can still establish a legit website that ranks well.
Domain name that is simple and easy to remember
For instance, your business or company name is good enough without hyphens or special characters. Don't try to shove the long keywords into your domain name!

Make Use of Website Platforms
There are mainly two types of website platforms that enable you to create and manage a website effortlessly:
Hosted platforms: 

As its name suggests, a "hosted platform" means that the host does everything for you, including hosting of the site, and providing you with ready-made design templates, where you can add and edit your content without using programming code.




Self-hosted platforms

: You are the platform's host and need the installation to work on your own. However, it still allows you to add and edit content without using programming code.
Tips: A self-hosted, open-source platform such as WordPress are recommended for SEO because:
You can customize it: For instance, you can edit the open-source code based on your preference. Meanwhile, there are lots of developers who are well-versed in the platform.
You can extend it: Most self-hosted platforms have millions of plugins for extending their functionality, including various SEO plugins.
However, a hosted solution will be a better choice if you prefer the ease of use with better support. Most of the well-known providers offer sufficient SEO competencies for most people.
3S' in Selecting a Good Web Host
For a hosted solution, a web host must store your site on a hard drive so that any user with an internet connection can access your business website.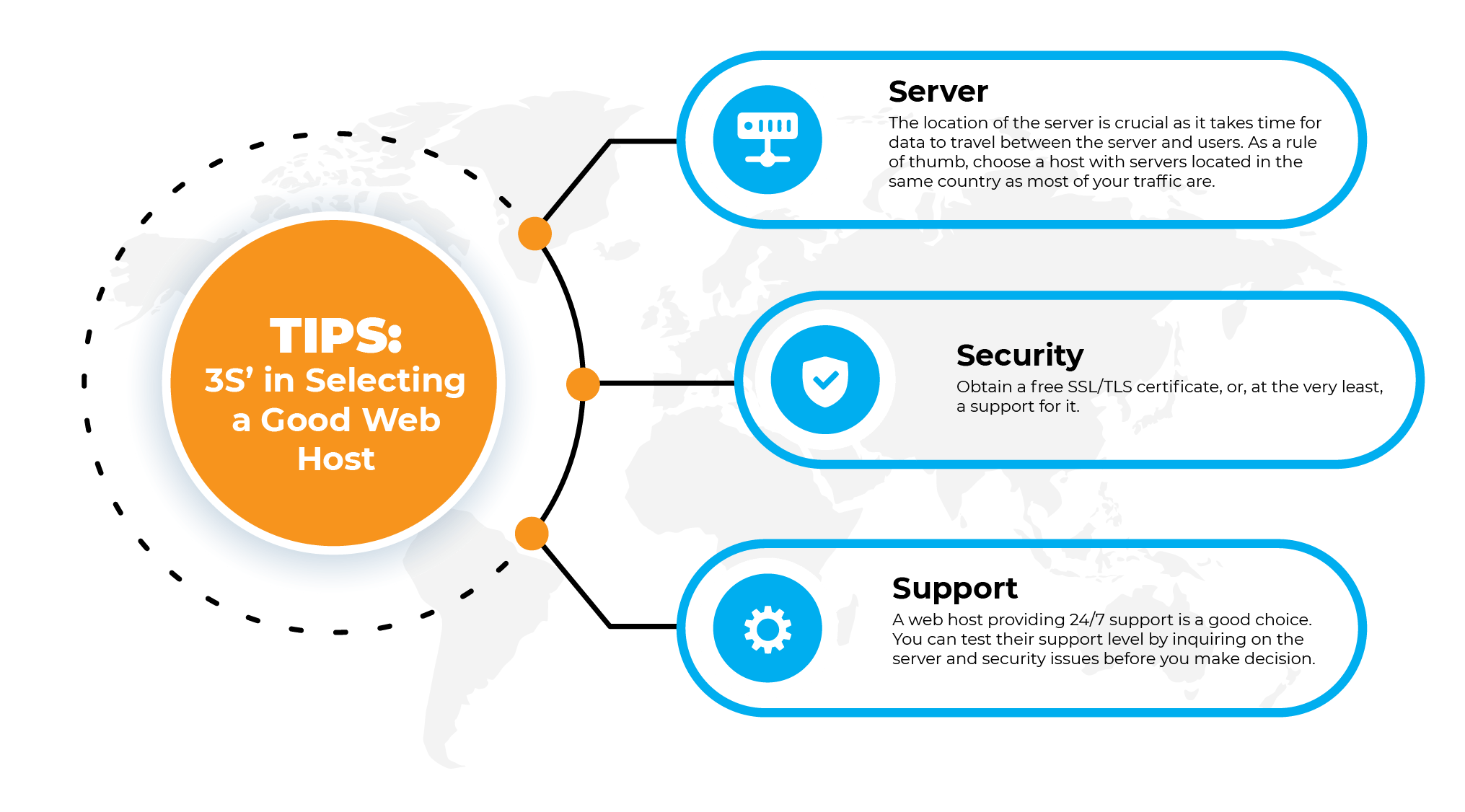 Consistency of Business Information Across All Platforms
To build authority and gain trust from internet users, especially followers to your social media channels such as YouTube, Facebook, LinkedIn, etc., you must maintain consistent information about your business (e.g. products specifications, brands, services, promotions, deals, etc.) across all the platforms that you are using, to avoid confusion and unwanted doubts from the users. Furthermore, consider that internet users can quickly look for the related business information you posted online on various platforms.
Build Positive Online Reviews
Observe the trend: Before kickstarting your brand-building activities, check out what people say about your brand and your competitors' brands.
Craft a user-friendly website: For instance, a clear-cut website menu where users can easily click and look for further information.
Start blogging: A frequent and consistent blog article posting helps build your industry's reputation and authority.
Stay active on social media: Reply to every request or opinion promptly.
Share your achievements: Boost users' trust by portraying your business achievements and awards.
Always keep your content simple: Maintain simple and easy-to-understand content.
In a nutshell, SEO is an ongoing effort. With a head start on SEO, your website will gain authority and trustworthiness from search engines faster. So what are you waiting for? Kickstart your SEO today!